This document contains background information for facilitators before they run the workshop with participants. It gives an understanding of how to use Instagram.
Preparation time for facilitator
Competence area
2 - Communication & collaboration
Resource originally created in
Workshop directions
How does Instagram work?
Instagram is a social media platform based on sharing and editing of photos and short videos. Users do this on their accounts either through traditional posts or by adding to their stories which can be watched by other users by clicking on an account's profile photo. You can follow other users and also comment on and like their photos. You can also tag friends that appear in your own photographs.
Creating an account
After downloading the Instagram app from App Store or Google play, you can create your own account. You can sign up using your email. your number or even your Facebook account. You will then have to fill in some details, such as your username and password. Once the account is created you can select your profile photo.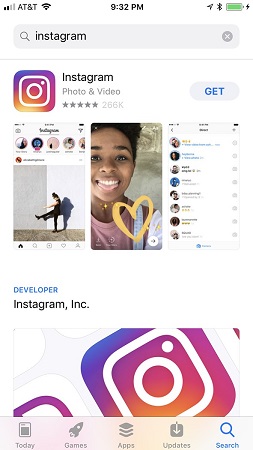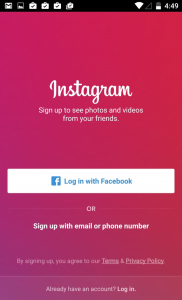 Instagram's basic features
Clicking the '+' on the bottom centre of the app's display and choose between uploading a photo from your photo's memory or taking or taking a new one there and then. You can then edit the photo using filters or by adjusting the exposure for example. You can then tag people by adding their account name as well as add a location and description. Finally, you can post the photo by clicking 'share' on the top right.
On Instagram, the # or hashtag is an expression, a word or a symbol that allows users to classify content. When a user clicks on a hashtag, they will find all other posts that carries the same tag. Hashtags can be added to your photos' descriptions.
Message with your followers privately
To communicate with your followers you can use private messaging by clicking on the little paper airplane on the top right of the app's display. Users can also communicate via comments under posts and by tagging each other using @.
Following an Instagram account
To be able to see posts and stories of a private account, you will need to follow it. To do this, go to the desired account and click 'follow' next to the profile picture.
By clicking on the heart on the bottom of the app's display, you will be able to see your recent activities: who is following you, who has tagged you in a post or photo, who liked one of your posts etc.
Privacy settings
On Instagram, as with other social networks and on the internet more broadly, it is important to be aware of how to protect our personal information. When you tweet, you should think about several questions:
Can the information you are about to post be shared?
Is it necessary to share your location?
With whom will my information be shared?
Are you comfortable with the fact that your information is accessible by so many people?
You can protect your account on Instagram by making it private, in which case your posts will only be visible by your followers. To do this, go to Settings>Privacy>Account Privacy, then tap on the button next to Private Account.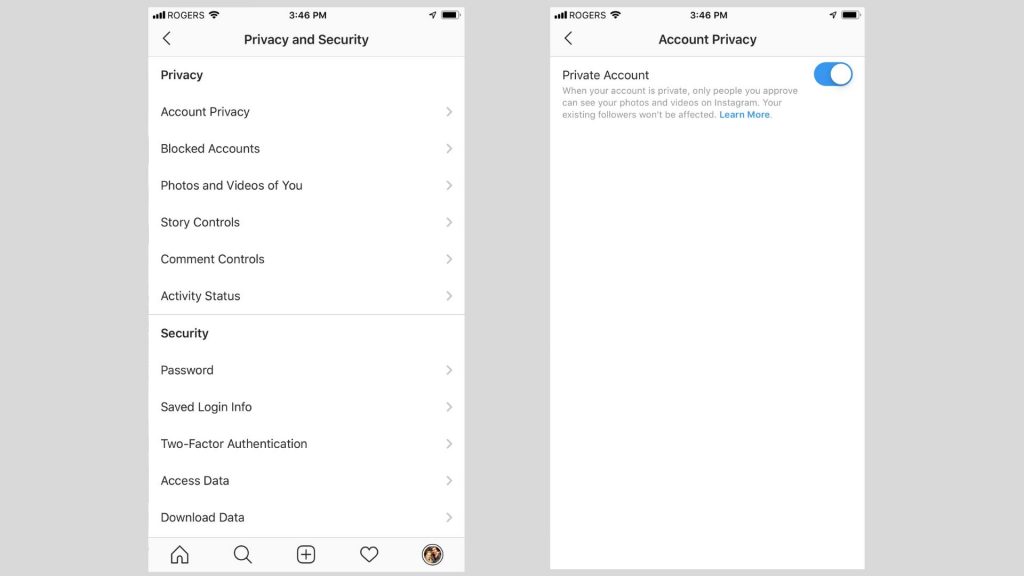 (Source)
Beyond this, we should protect our account with a strong password. Go to Settings>Security>Password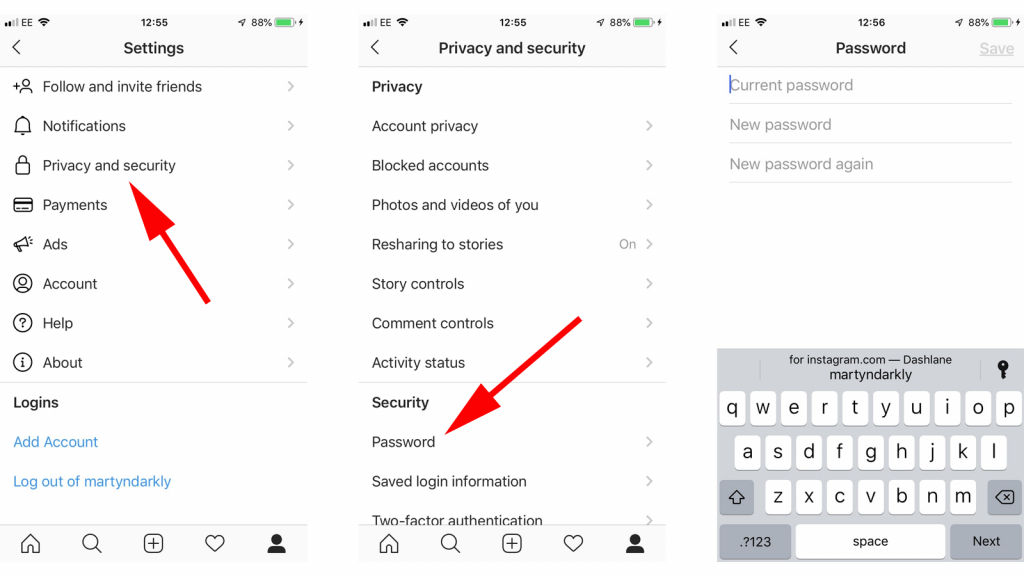 (source)
Further information