This document contains background information for facilitators before they run the workshop with participants. It helps understand how to use Soundplant, an audio software that turns your computer keyboard into a musical instrument.
General Objective
Knowledge acquisition, Skillset building
Preparation time for facilitator
Competence area
3 - Digital content creation
Resource originally created in
Workshop directions
Introduction to Soundplant
What is Soundplant?
Soundplant is an audio software that turns your computer's keyboard into a sample trigger and playable musical instrument. A sound is associated with a key and once that key is pressed, the computer plays the chosen sound. There is a free version available on www.soundplant.org.
Uses
This software can used for in many different domains such as: …for music, sound effects, as a unique electronic instrument, as an educative aid, or just for fun. …for various distribution methods: radio, television, theatre, podcasting, presentations, studios, in stadiums, classrooms, clubs, museums and churches. …by DJs, musicians, engineers, sound designers, composers, artists, teachers, magicians, puppeteers, comedians, presenters, actors and more.
Composition and main functions
– Musical keyboard: you can assign a sound to a key that will play when that key is pressed. The configuration of the keyboard is managed via a graphical interface. You only need to choose a file you want to associate with a key. You can use up to 72 keys.
– Formats: we can work with files of the format .wav, .aif, .mp3, mp4, .m4a, .aac, .flac, .wma, .alac, .wv, .ogg, .snd, .ape and many more. We can also use videos of the format mpg, fly, 3go and more.
– Drag/drop: to assign a sound to a key, drag and drop a file to the corresponding key. For the free version, you can load and play up to 25 samples.
– Editing: it is possible to edit files to control their volume, pitch, stereo spread and various other aspects.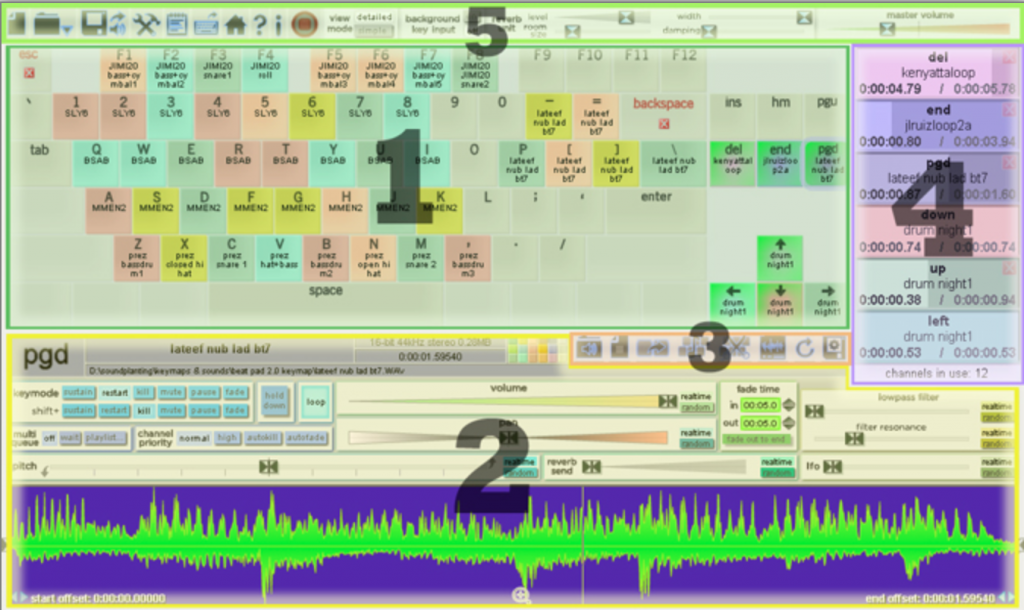 [Source]
Going further